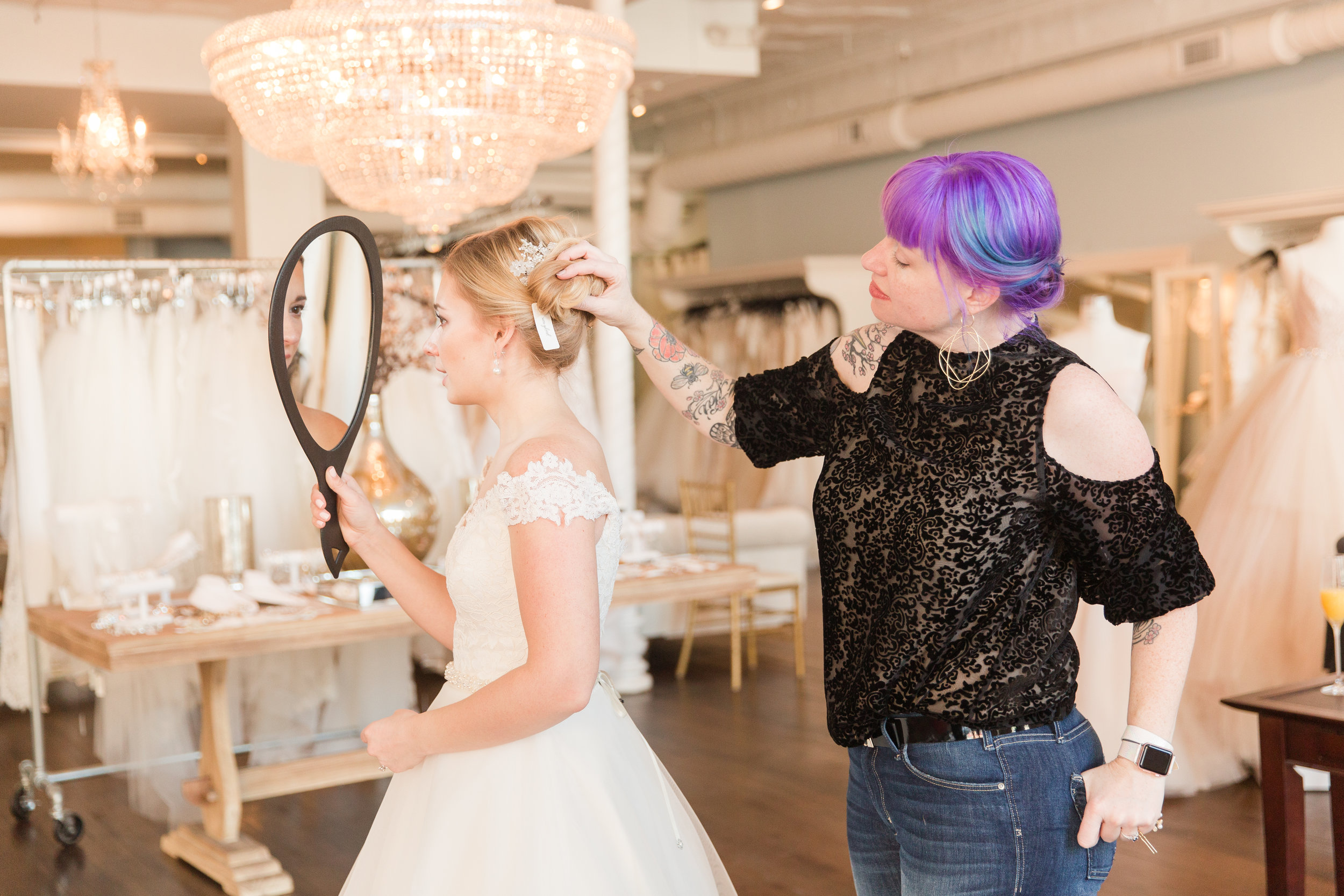 We're putting the spotlight on one of our favorite ladies, who happens to have a trunk show coming up here at La Jeune Mariee January 24-26! If you're a #futuremrs looking to add some sparkle to your wedding day look, Sara's your gal!
ABOUT THE DESIGNER
Denver-based Sara Gabriel creates wedding accessories with vintage-inspirations that embody the spirited traditionalist.
Having grown my tiny company into one of the most sought-after and recognizable brands in the industry, I am committed to staying true to my roots. I create my designs in the most difficult way possible: completely by hand, one at a time and just for you from beginning to end. Every veil is individually cut, every crystal is hand placed and every lace appliqué attached one at a time, just like the first pieces I made over 18 years ago. Not everyone does it this way but I believe that the care and love my team and I put into each piece will show from the moment you open your box to the moment you walk down the aisle!
Sara is SO much fun + we can't wait for her to join us again at our boutique!
*ALL* THE ACCESSORIES
Veils, headpieces, jewelry, sashes + gown changers - all hand crafted one at a time just for you, #bridebabe
I design my collection each year with one eye on traditional elements that grant a timeless quality to the brides who wear them, and the other eye on free-thinking, spirited brides who know who they are and want their personality to show. I want every one of my brides to sparkle and shine in her own way, and I use glittering Swarovski crystals, classic French laces, refined construction techniques and the softest veiling tulle imaginable to ensure they do. Ultimately, I'm inspired by you! ♥︎
TRUNK SHOW FUN
Sara herself will be joining us at the trunk show to make all your accessory dreams come true!
If you thought choosing your dress was fun, just wait until you start accessorizing! Oh my gosh, it's even better! Putting your dress on again? Yes, please! Trying on oodles of sparkly things? Um, YES! A consultant or myself to help style your wedding day look? OMG! Seeing everything come together is one of the most special (and fun!) moments for a bride and I LOVE that I get to be a part of it! Psst...most boutiques also offer discounts during the show, making this good thing even better. Check below to see when my trunks will be in your neighborhood!

-xo Sara